If your child is experiencing delays in their speech or developmental milestones, our pediatric Los Angeles occupational therapy speech therapy exercises may be for them.
There are many reasons a parent wishes to work on speech therapy exercises for children at home. Sometimes, they aren't sure if their child needs speech therapy, or they would like to practice with them at home first.
As a pediatric Los Angeles occupational therapy team, we understand that as parents, we are our children's greatest teacher. Because of this, we bring you 3 speech therapy exercises for children at home.
Lily Pad Hop
Lily Pad Hop is a fun and simple game to aid your child to repeat the same word multiple times. Pick a few words your child may need help with, and then put them in little plastic bags, otherwise known as "lily pads". Spread them around the area and have your child jump on each one while saying the correct pronunciation. They'll be hoppy to play and you'll be happy they're learning.
Mirror Me
Plenty of children who have trouble speaking don't know how to move their mouth to say the correct sound. Ask your child to speak in front of a mirror to watch their mouth as they make the sounds they're having trouble with. You can vocalize each troubling sound with them to model the correct pronunciation. Vocalizing in the mirror also points out the differences between what they're saying and the accurate way to say it.
Flashcards
Flashcards are great for studying anything, including speech! Including a reward or activity for your kids when they are correct can make it more entertaining for them. After they correctly say a few words, reward them with a small candy! Chewing is also good because it strengthens your child's jaw muscles.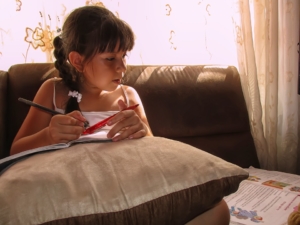 Our Los Angeles occupational therapy team reminds you that our speech therapy exercises for children at home are not to replace speech therapy but to help aid your child to excel efficiently.
About LA Speech Therapy Solutions
LA Speech Therapy Solutions is an experienced pediatric patient-oriented Los Angeles occupational therapy facility located in Los Angeles. With over 20 years of experience, they have the right skills and techniques to help you or your child improve their speaking abilities. If anyone needs speech therapy or Los Angeles occupational therapy should visit LA Speech Therapy Solutions online at www.laspeechtherapysolutions.com or in-person at 2836 Sunset Blvd., Los Angeles, CA 90026 (323.522.6071).