When your child is undergoing occupational therapy, it can be helpful for them to continue their progress outside of their normal appointments. Your pediatric occupational therapy Los Angeles providers shares these at-home exercises to supplement your child's OT treatment.
Fine Motor Activities: these types of activities are crucial to help your little one develop the skills they will need to develop good handwriting and endurance while handwriting.
The Money Box
Have your child hold two or three coins in one hand and have them push them through a coin slot on a piggy bank without dropping the remaining coins in their hand.  As your child improves, have them hold more coins at a time.  A slot on the side of the piggy bank is also more difficult than a slot on the top.
Sensory Processing Activities: this process occurs in the brain with information coming from our eyes, ears, nose and skin.  When the brain doesn't process information adequately, the child may experience a sensory processing disorder (sensory integration disorder).
Passive Proprioception
Have your child lie on a flat surface and pack pillows and other light items on top of them.  Once your child is comfortable with this, you can try weighted vests and blankets.  Be sure to never cover the child's face.  These simple tasks will help their brain process information in a safe place.
Coordination Activities: these types of activities are important because so much of our daily tasks depend on it.  You don't realize how much you need coordination skills until they are lacking.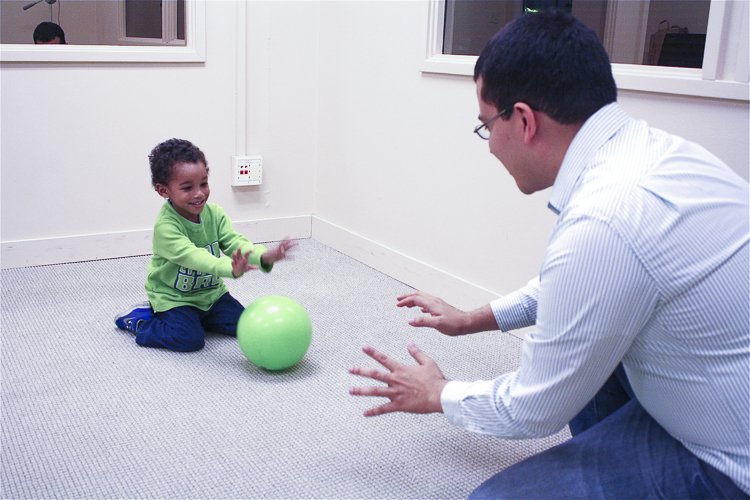 Ball Roll
This activity is perfect for toddlers and young preschoolers.  Have your child sit with their legs apart and you should roll the ball in-between their legs.  Instruct our child to try and stop the ball before it hits their tummy.
LA Speech Therapy Solutions in pediatric occupational therapy for patients in the greater Los Angeles area.  Their offices are located at 117 N. Highland Ave., Los Angeles, CA 90036.  Phone: (323) 954-0887.  Website: laspeechtherapysolutions.com.